Overlooking the ocean Eden's War Memorial is located in RSL Park in Calle Calle Street.
On one side is the WW1 Memorial, listing Eden and District men who served on continuous full time war service in The Great War and on the other is the WW2 & Vietnam memorial. Also remembered are Eden volunteers for the US Army Service of Supply and U.S. Army pilots from the 8th Squadron 49th Fighter Group.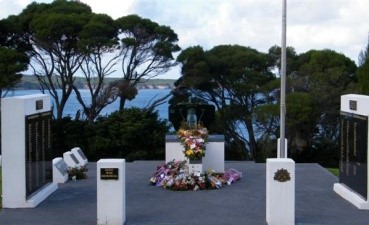 This memorial is located in Rotary Park near Lookout Point at the end of Imlay Street, Eden.
It was erected by the people of Eden following the loss of the trawler 'Shiralee' with all hands on 10th August, 1978, as a memorial to all seamen who have sailed from the Port of Eden and have been lost to the sea with their bodies never recovered. 
The names of 24 unfortunate souls are displayed on plaques on the wall and within the nearby circular garden. Two of the plaques tragically bear two names, both fathers and sons, who were lost to the sea on separate occasions.