Disaster Preparedness Project
Disaster Preparedness Project
The Disaster Preparedness Project is a community-led initiative bringing together community members, community groups, emergency services and response agencies, community services, and state, federal and local government in the co-design of a Disaster Preparedness, Recovery and Resilience strategic plan for Eden and surrounding villages. The goal is to build a strong and resilient community through preparation and skills building and a practical structure the community can rely on for leading disaster preparation, recovery and resilience for years to come.
WHAT CHALLENGES WILL THE PROJECT ADDRESS?
The aim of the project is to build the foundations for Eden and surrounding villages to stand together, united to prepare, face and recovery from disasters and the challenges of the future. The need for a coordinated approach was identified by the Eden Community Access Centre following the bushfires of 2019-2020.
The Disaster Preparedness Project is focused on making sure the community is prepared for potential disaster, by drawing on the strengths of local knowledge and connections and working with agencies to fill gaps in our resources. This project intersects with other Access Centre and Eden Recovery and Resilience Alliance (ERRA) projects designed to build Eden's self-reliance, strength and adaptability. These include the development of a Community Hub, the Rural Support Workers program and the Community Battery project.
Our aim is to share expertise and knowledge, build better disaster preparation initiatives (?) that draw on the unique needs and strengths of Eden and surrounding villages and enable collaboration and coordination in planning for and recovering from disasters and emergencies.
DETERMINING COMMUNITY PRIORITIES
Project coordinator, Jodie Stewart and the project team – Deb Austen (Project Support Officer) and Sharon Wellard (Community Engagement Working Group Chair) – have coordinated community table talk conversations and workshops as the groundwork for determining what the community agrees is needed for Eden and surrounds to prepare for and recover from disaster events and to build greater community resilience.
Existing disaster preparedness models combined with local knowledge and strengths are the keys to disaster preparedness and recovery. This region is rich with people who have years of experience and understanding of the landscape and of the community.
We know that connected, capable, resourceful, and independent communities bounce back from disaster, so focusing on creating the conditions for strength and independence is a focus for this project.
 .
Formation of a committee
An expression of interest process for community members to join the committee was run in August 2021.
Community Table Talks
From May to November 2022, a series of more than 17 structured conversations- called Community Table Talks -were held in Eden and surrounding communities. People came together to respond to three 'calling' questions: What has helped you manage through a disaster? What would make you better prepared for future disasters? What could we do together as a community to be better prepared for future disasters?
Consistent themes have emerged from the Community Table Talk series. They are:
education, information and training are critical to empowering people to be at their best in times of disaster.
effective communication with neighbours and two-way communication between the community and authorities is essential and
social connection is vital to being a well-prepared community.
Surrounding communities including Wyndham and Rocky Hall have held information sessions about the Red Cross' Community-led Resilience Teams model and how it might be applied to their needs. Eden Cove estate at the northern end of Eden and Eden's Happy Valley community are also coming together to work through the value of forming a Community-led Resilience Team.
Resilient Eden Community Workshops
Our Resilient Eden Community Workshops held in November 2022 brought the community together to review and assess existing models, tools and techniques to determine what will work for Eden's needs and priorities.
The Project Lab
With the community telling us at our Community Table Talks that education, communication and community connection are its priorities, these themes have been reflected in the projects that began to  emerge at our November 2022 workshops.
The fortnightly Project Lab is where those projects and more, of all shapes and sizes, are growing and gaining support to flourish and live on.
The Project Lab launched in February 2023 and the projects being developed there will form the basis for a Disaster Preparedness, Recovery and Resilience Strategic Plan for Eden and surrounds beyond the life of the project which ends on 30 June 2023.
The Project Lab is held at the Eden Library Event Space from 5.30pm to 7.30pm. A yummy dinner is served and all community members are welcome to participate according to their interest and capacity.
There's something for everyone at the Project Lab. No project is too small. When it comes to enhancing community connectedness anything is possible including forming walking groups, cleaning up a neglected area in Eden or organising a street get-together. The role of the Disaster Preparedness Project team is to support the community as it self-organises around these projects.
Our regular Prepared for Disaster program on community radio 2SEA 104.7FM
The project's regular radio program -Prepared for Disaster – covers a range of disaster preparedness, recovery and resilience topics. Each fortnight Jodie Stewart talks to experts, combat agencies and locals doing great things to make Eden and surrounding areas stronger and better prepared for the future.
The idea is for the program to live on beyond the life of the Disaster Preparedness Project to be a communication asset for the community's ongoing preparedness.
Tune in to 104.7 FM on Wednesdays at 11 am. New programs go to air every fortnight and the program is repeated at the same time every second Wednesday.
Get in touch
Please get in touch with Jodie Stewart if you have any questions or suggestions. Let's make final months of the project really count. You can reach Jodie at: Jodie.accesscentre@gmail.com or by calling or texting 0488 079 853.
.
Resilience NSW – $300,000 for a Disaster Preparedness, Recovery and Resilience Strategic Plan (DPRRSP)
CONNECTION TO ECAC's MISSION STATEMENT
The Disaster Preparedness Project connects to the following ECAC objectives:
An inclusive environment encouraging participation from all groups and fostering positive relations

Build community social and economic capacity
Develop local solutions to local problems
Raise the aspirations of individuals and unlock the potential of community
WHO TO TALK TO - MEET JODIE STEWART
You can email Jodie at Jodie.accesscentre@gmail.com or phone 0488 079 853.
You might remember Jodie as the Eden Magnet journalist in 2018.
Jodie was raised in Bega but has family roots in South Pambula where her father Robert grew up. She has a love of 19th century Australian history and, in particular, Aboriginal and settler histories.
In 2019 Jodie completed a PhD on the Bundian Way and has spent several years researching in Eden. She documented the development of the Bundian Way project as an important and "potentially recuperative public history initiative".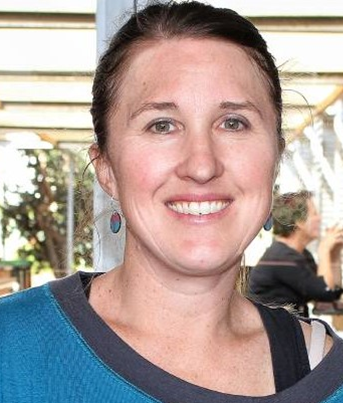 Jodie Stewart
Project Coordinator: July 2021 – July 2023
"I have a deep and abiding love for the Far South Coast and feel privileged to be working with a vibrant and diverse community "– she told readers of the Magnet in 2018.
Jodie has extensive experience in project management and has managed small and large community projects. In 2019, she supported over 52 young people through the Youth Frontiers program to develop 15 community projects. In 2021, she worked closely with the Eden Community Access Centre to develop the Eden Hospitality Training Hub.
Jodie is a self-confessed people person who loves having a chat. She is also a skilled public speaker and has spoken at community events, seminars and university lecture halls. Jodie has a wealth of experience with community committees and is the current Chair of the Spring Fashion Show committee, a partnership between The Disability Trust and The Sapphire Coast Anglican College.
Header photo credit: Phill Small Photography