Eden Hospitality Training Hub
The Eden Hospitality Training Hub is an initiative of the Eden Community Access Centre, supported by The Local Jobs Program (LJP) and funded by the Australian Government Department of Education, Skills & Employment that aims to support local hospitality business in Eden. The project will train up to 20 people in a real-life café situation, to prepare them for employment in the hospitality industry.
The Hospitality Training Hub will commence early November, 2021 and will operate with a COVID plan in place.
Anyone wanting more information about this opportunity can contact the Eden Community Access Centre directly on (02) 64963970 or email admin@eden.nsw.au.
WHAT CHALLENGES WILL THE PROJECT ADDRESS?
The Eden Hospitality Training Hub seeks to address the current and predicted hospitality sector jobs and skills shortage in Eden and surrounds by providing access to high-quality, job-ready skills and industry training.
The project will be implemented by the Eden Community Access Centre, in consultation with the Local Jobs Program and the Eden Recovery and Resilience Alliance.
The project will focus on engaging long term unemployed, Indigenous and young job seekers to undertake the training program to help secure employment.
Throughout the project development process, we have continually engaged with local hospitality businesses, Job Active organisations, Employment Agencies & Registered Training Organisations.
The training program will run over a 26-week period and will be broken down into a number of separate courses over this period. The courses will include some theory components, basic practical work (barista), customer service and supervised hands-on practical experience in a local hospitality business.
Volunteer project mentors will be key to the success of the program and we are seeking expressions of interest from people who are keen to support participants throughout their program journey.  Mentors do not need to have backgrounds in hospitality, although it may be helpful.
The Project Mentors will be on hand during the training period to:
assist participants that may have literacy concerns or any special needs,

to help with any homework and,
to offer encouragement and support to the participants to ensure continued engagement
We anticipate the Project Mentors will be available to assist for a few hours each day (potentially 2-3 days per week).
CONNECTION TO ECAC's MISSION STATEMENT
The Eden Hospitality Training Hub project connects to the following ECAC objectives:
An inclusive environment encouraging participation from all groups and fostering positive relations
Build community social and economic capacity
Develop local solutions to local problems
Raise the aspirations of individuals and unlock the potential of community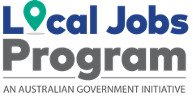 The Local Jobs Program (LJP) is funded by 
the Australian Government Department of Education, Skills & Employment